Our website is supported by our users. We sometimes earn money when you click an affiliate link and make a purchase. This is at no extra cost to you and helps in creating quality content. Thank you for your support.
At some point as a dog owner, you may have considered using a retractable dog leash.
Unlike a traditional leash, a retractable dog leash offers your dog a bit of freedom and a chance to sniff and explore its surrounding area. This offers a high amount of enrichment for dogs that normally stay indoors.
However, due to having less control over your dog, these leashes also have a reputation for being somewhat unsafe — and have been known to cause injuries to both dogs and owners. Unfortunately, their bad reputation is the fault of the owner for not being mindful when walking their dog.
One thing to note for choosing the size of all the best retractable dog leashes: The size will also depend on how much your dog pulls. For strong dogs or big dogs we recommend going up a size. For example, one of our dogs was only 34 lbs which would fall under a medium, but she was a pretty heavy puller even when just walking.
Additionally, as a rescue, we couldn't seem to train the aggression out of her completely and occasionally, she would lunge at other dogs. So, instead of a medium leash, we got her a large.
This article will examine the makings of five of the best retractable dog leashes on the market so you can find the right leash for your dog.
The Tug 360-Degree Tangle Tangle-Free Leash is of the best retractable dog leashes because it has an ergonomic handle that has an anti-slip grip.
It also has a top-oriented quick-lock brake system, easily accessible to the thumb of the holding hand. Its main cord is nylon and flat, and its interior is a coil spring made out of stainless steel.
Perhaps the most interesting feature of this leash is that its opening allows the cord to be pulled in multiple directions — hence its "360-Degree" feature. This makes this leash have a nearly tangle-free design.
Its locking system allows for four settings: Free, Paused, Locked, and Unlocked.
At 16 feet in length, the leash is suitable for giving your dog quite a bit of freedom.
In addition The Tug 360 has various sizes so that you can use the size most appropriate to the size and strength of your pet.
It comes in small (for dogs under 33 pounds), medium (for dogs under 55 pounds), and large (for dogs under 110 pounds) sizes.
The largest unit comes in a size of 8.2 inches long, 5.8 inches wide, and 1.6 inches high while, of course, the other sizes are smaller.
As mentioned, be sure to take your dog's activity level and strength while choosing a size. The Tug chart does NOT account for this. It does however, account for the owner's hand size and how it fits into the handle.
What we like:
Durable outer casing (ABS plastic)
Ergonomic design
Spring-coil lock system
Multiple sizes and colors
What we don't like:
Cord is fairly chewable
Not the best option for large dogs who are strong pullers
Their size chart doesn't accommodate for a dog's strength
Related Links: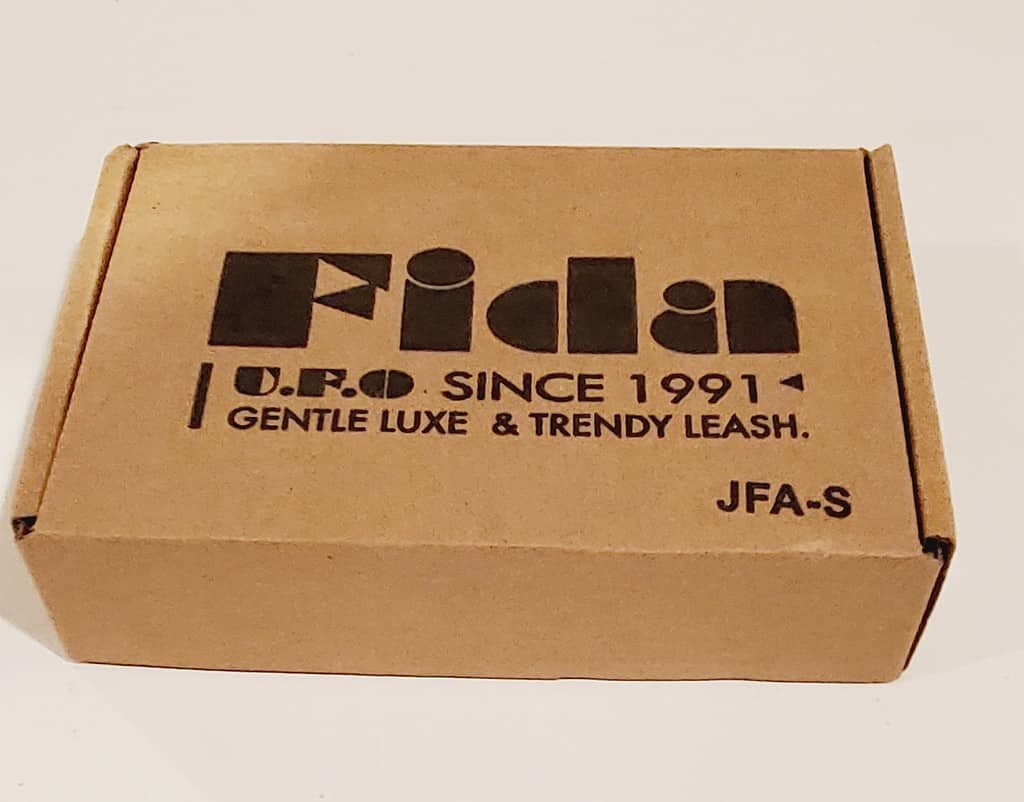 Another top pick of the best retractable dog leashes, if you are looking for a balanced retractable leash that you can hold like you are shaking someone's hand, the Fida Retractable Dog Leash is right for you.
On of the first things we like it has an anti-slip soft handle and its casing is made of scratch-free polyresin material making for a super comfortable handle. It has a thumb-oriented locking mechanism.
The leash itself is a flat-shaped tape lead made of polyester, and it has reflective qualities. The width of the leash is 0.9 centimeters (for the small size), 1.1 centimeters (for the medium size), or 1.5 centimeters (for the largest size).
It has a swivel hook for your dog's collar; the hook itself is rust-proof.
Fida's leash comes in different colors and a variety of sizes for your best friend is available in extra small (for dogs less than 18 pounds), small (for dogs less than 26 pounds), medium-sized dogs (for dogs less than 44 pounds), and large (for dogs less than 110 pounds) sizes.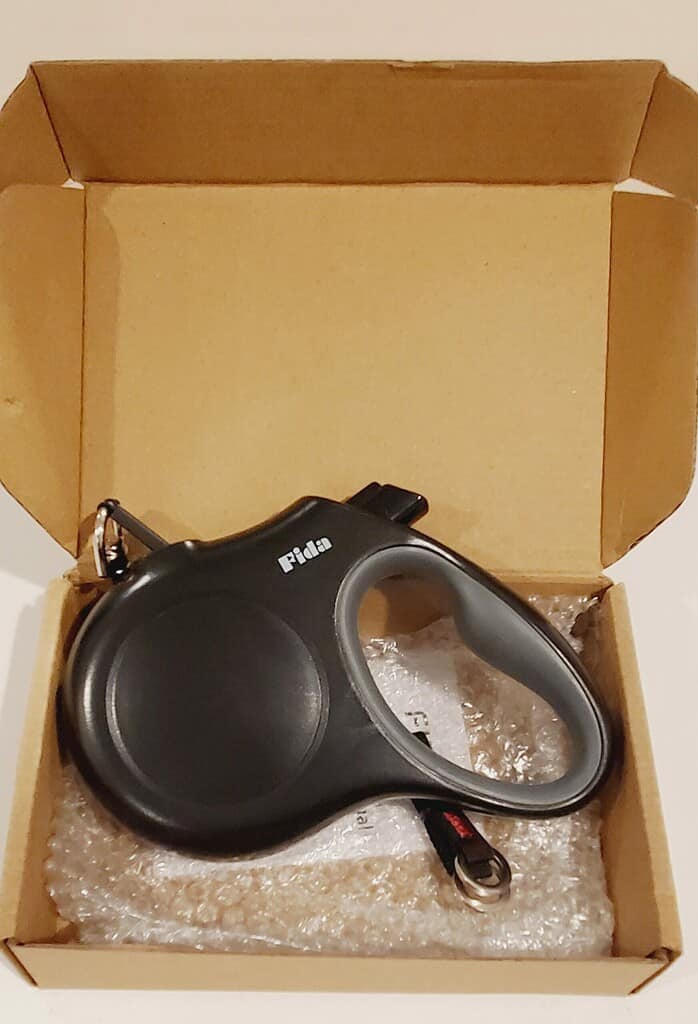 What we like:
Reflective tape is good for night walking
Anti-twist inlet opening
Easy one-touch retracting system
Very hand-friendly
Multiple sizes, even for very small dogs
What we don't like:
Lead is prone to snapping
The clip is on the small side
May not unlock unless dog has stopped pulling
Related Article: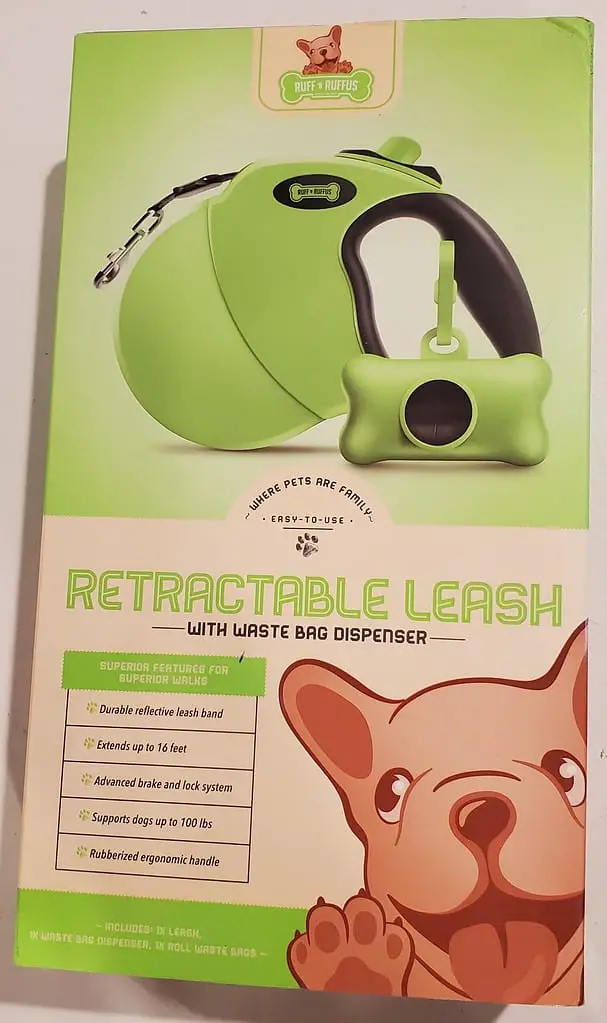 In this case, one of the best retractable dog leashes comes with other cool accessories.
The Ruff 'N Ruffus Retractable Dog Leash comes with, including a collapsible travel bowl, a waste bag dispenser, a roll of poop bags, and a mini LED light.
But, the main focus of this package is the leash holder, with the leash being 16 feet long and suitable for dogs up to 110 pounds.
The holder is ergonomic and its handle is made of rubber for a good, comfortable grip.
Also, it has a top-oriented push-button brake button. You can move the button forward once in the push-down position to keep the leash from going out further. Finally, the leash is flat and is made of a composite material with reflective stitching.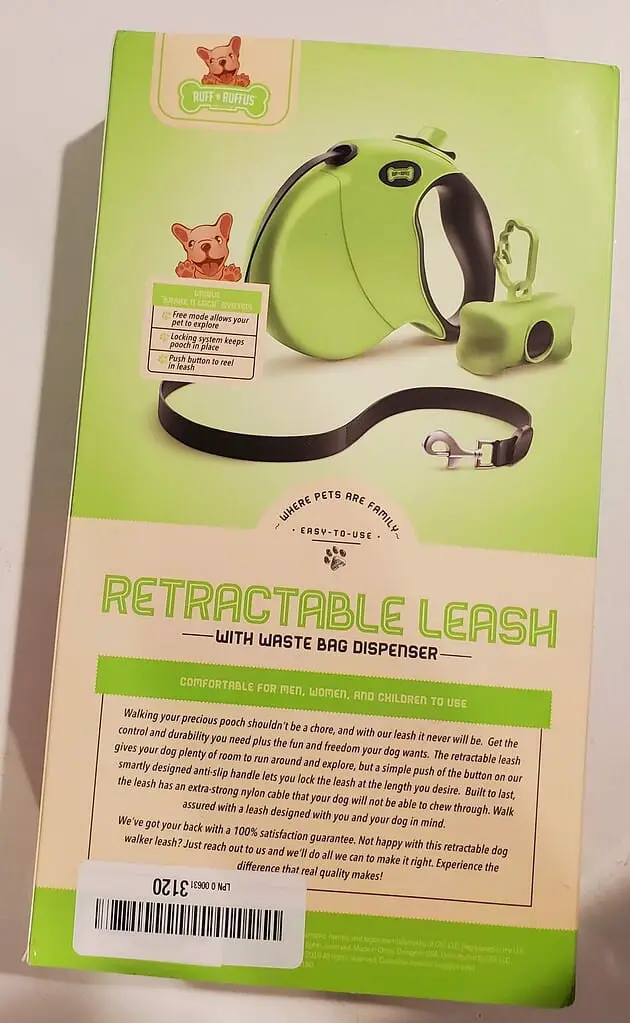 The reflective stitching helps on long walks where you lose track of time and are walking in low light conditions. As mentioned, it has a tangle-free mechanism that is handy if you have a dog that meanders or jumps around a lot.
Other features include, a 1-inch diameter LED light that is attachable, as well as an attachable waste bag dispenser that is about 4 inches long and two inches wide. Additionally, it comes with 15 disposable waste bags.
The collapsible bowl is no larger in diameter than that of the circular portion of the leash holder, and it is also attachable to the main holder component.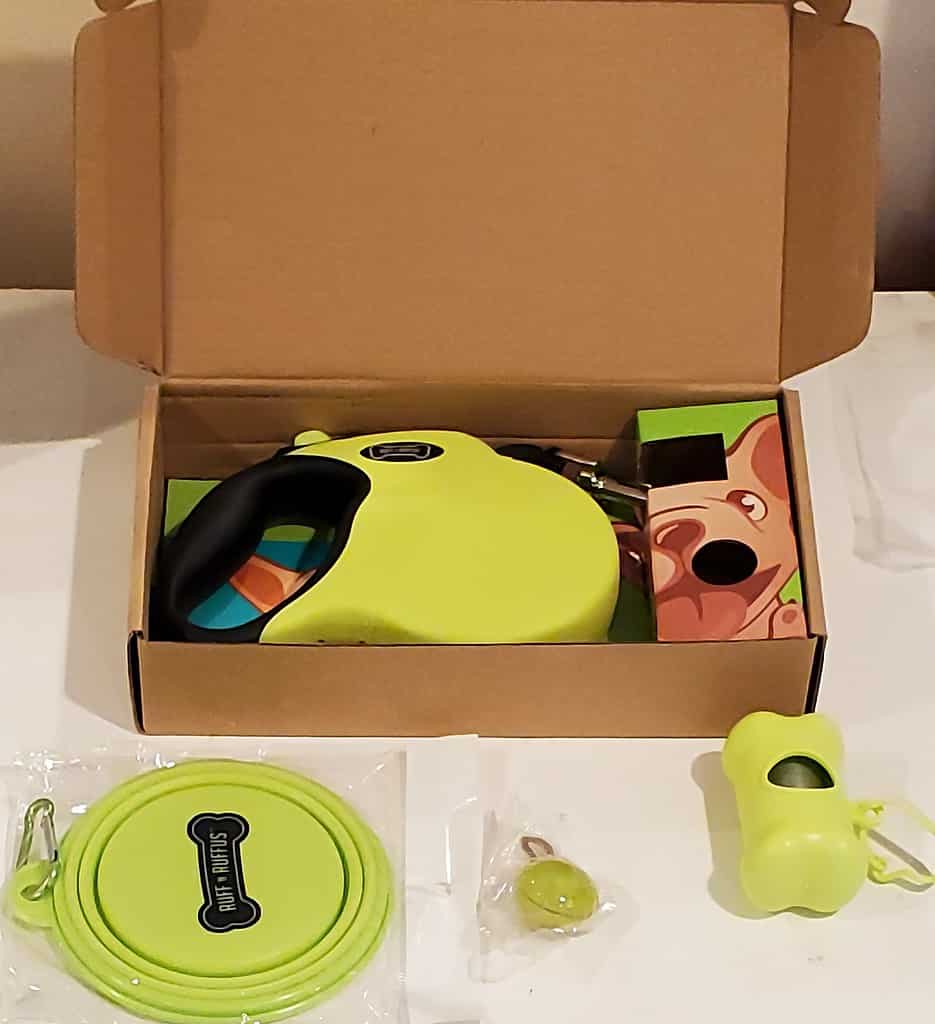 What we like:
The handle/leash holder is hand-friendly and easy to use
Comes with plenty of attachable features
The leash itself is made of partially reflective material
Adjustable brake and lock system
What we don't like:
The leash width (1/4th of an inch) is not suitable for larger dogs
The leash is easily chewed through if you have an aggressive chewer
This leash/leash holder only comes in one size.
Related Articles: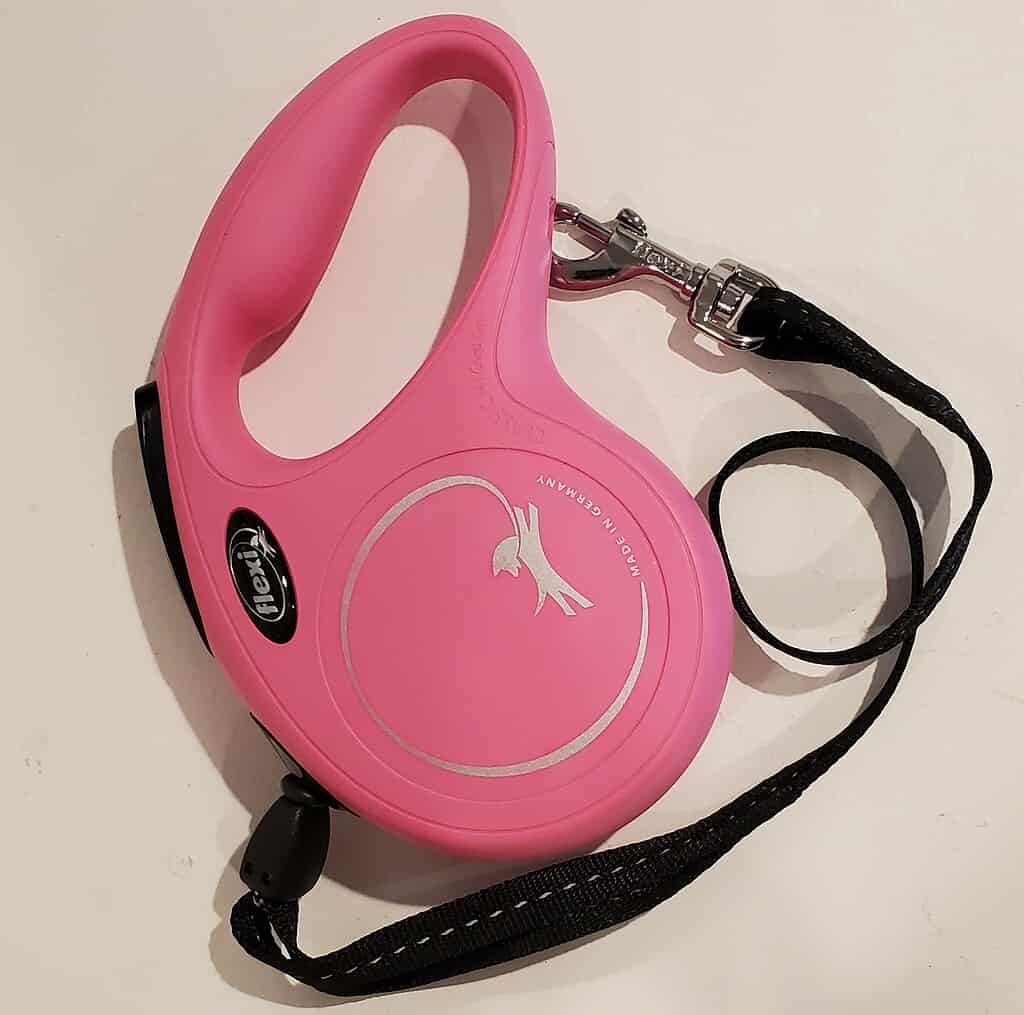 Next on our list of the best retractable dog leashes, and one that we have used the most, is the The Flexi Neon Nylon Cord Retractable Dog Leash. To be honest, we think is the best choice.
Like all the others his leash has an ergonomic grip. However, this leash has a 16-foot corded leash rather than a flat nylon ribbon leash. And the safety belt tape with its reflective stitching adds increased visibility making it ideal for nighttime walks.
Compatible with the Flexi Multi Box Dog Leash Accessory which can hold poop bags and treats.
The leash holder has a thumb-oriented lock button. The thumb button can be hard to push for people without a reasonable level of hand strength but it was no problem for us.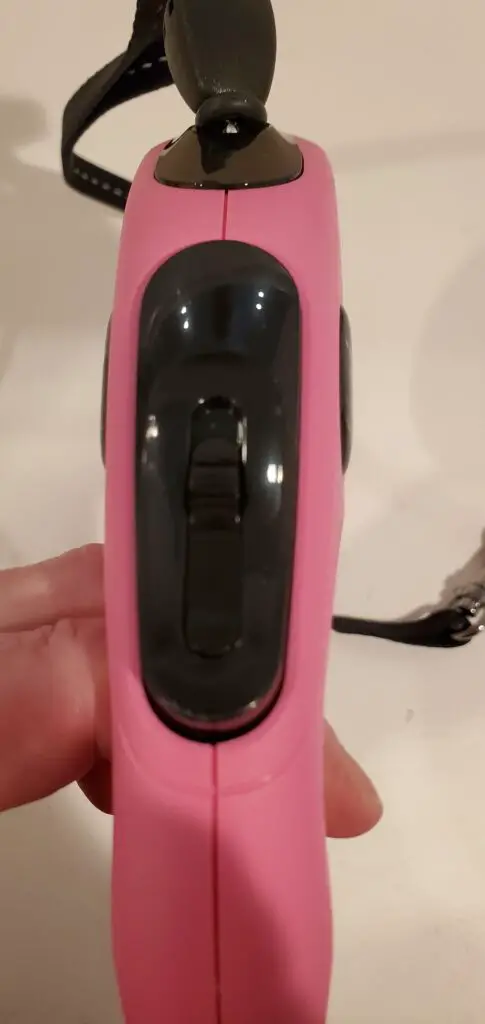 There are four sizes in the 16 ft. length ranging from extra small to large. However, the large also comes in the 26 foot length.
We didn't purchase the 26 foot longer leash length, however, in full disclosure felt that that length, in addition to it being for a larger dog was not safe in the majority of cases. The 26 foot would not be the best retractable leash for Great Danes or large energetic dogs.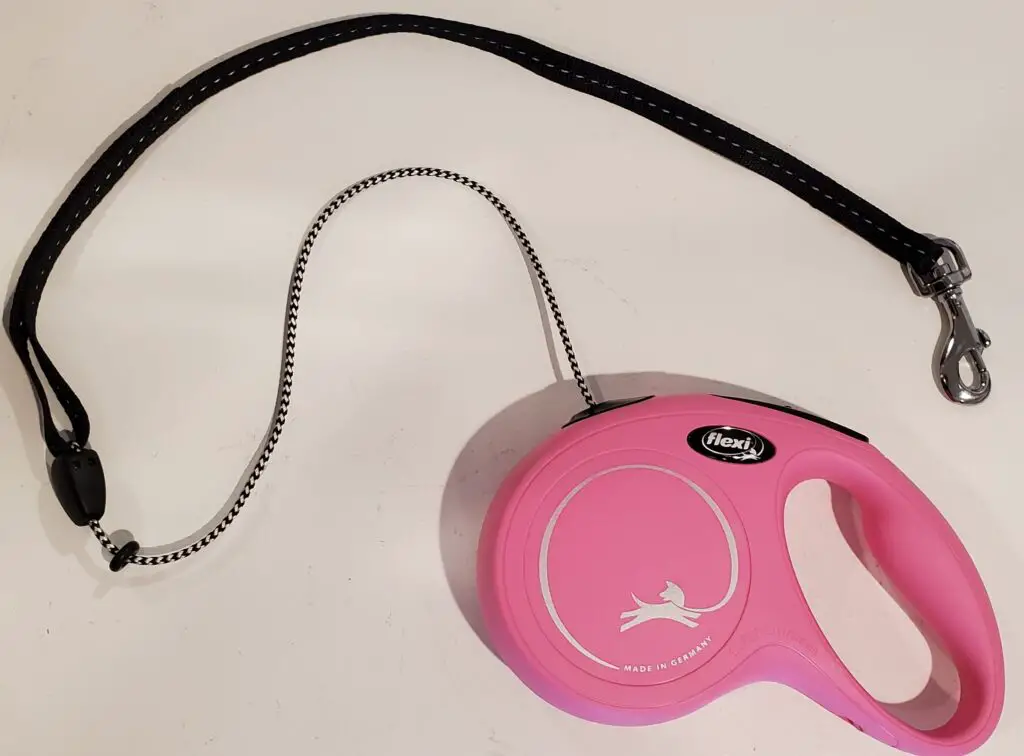 As for sizing, Flexi has an excellent chart to show how the difference in the activity level of your dog correlated with your dog's weight will better determine the size of leash your dog needs rather than just weight alone.
Flexi is such a good brand that we have purchased several throughout the years.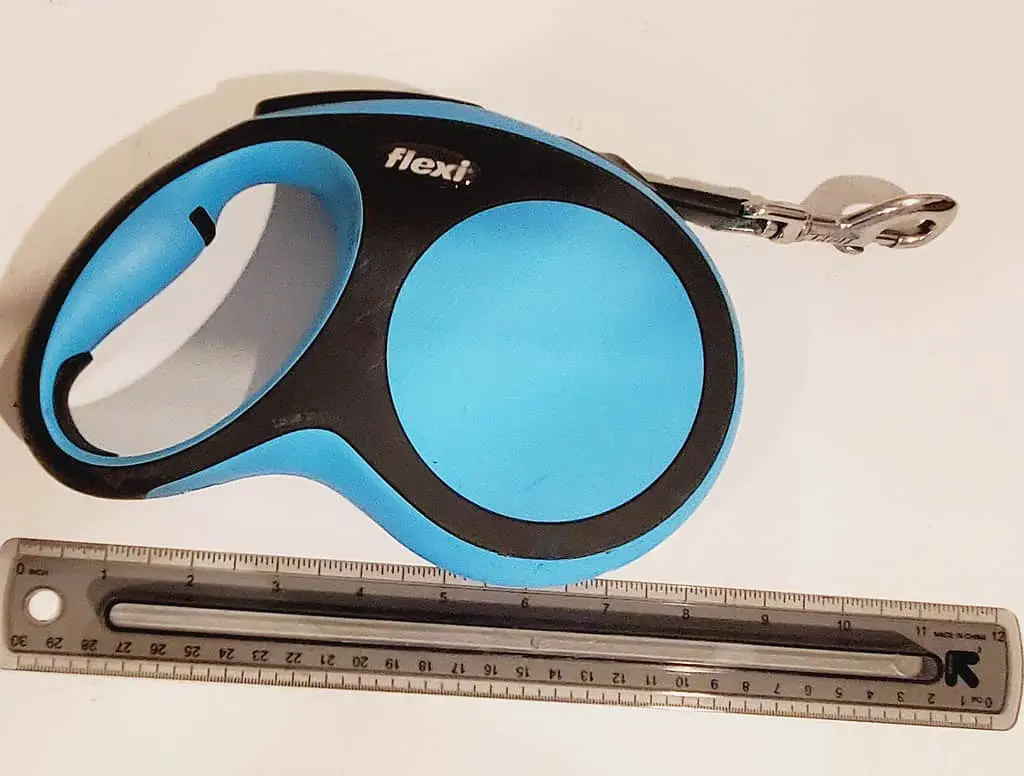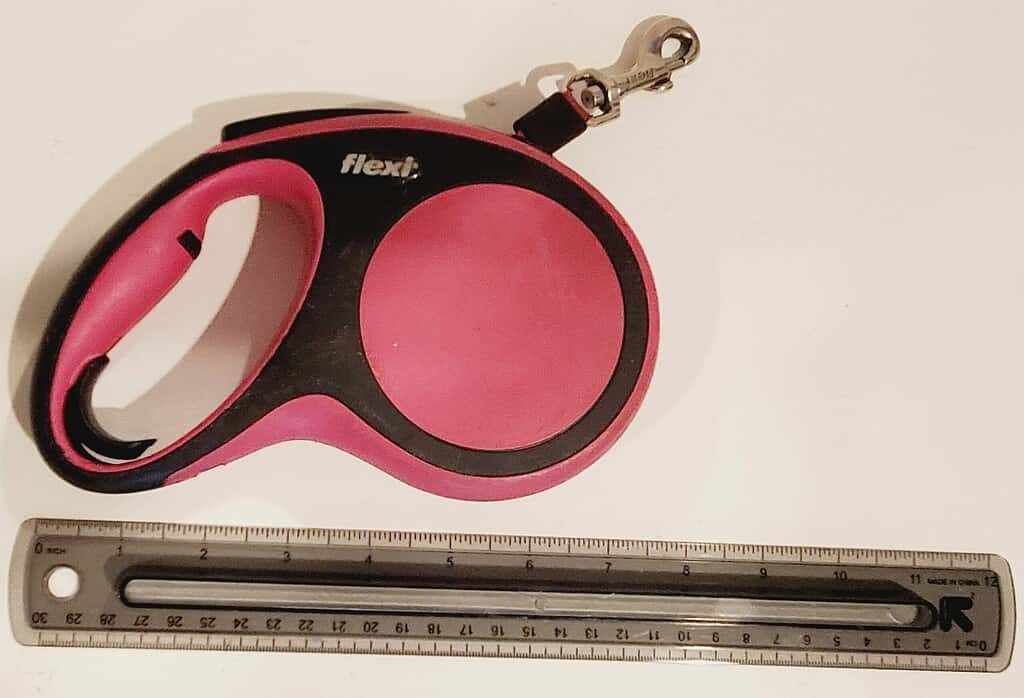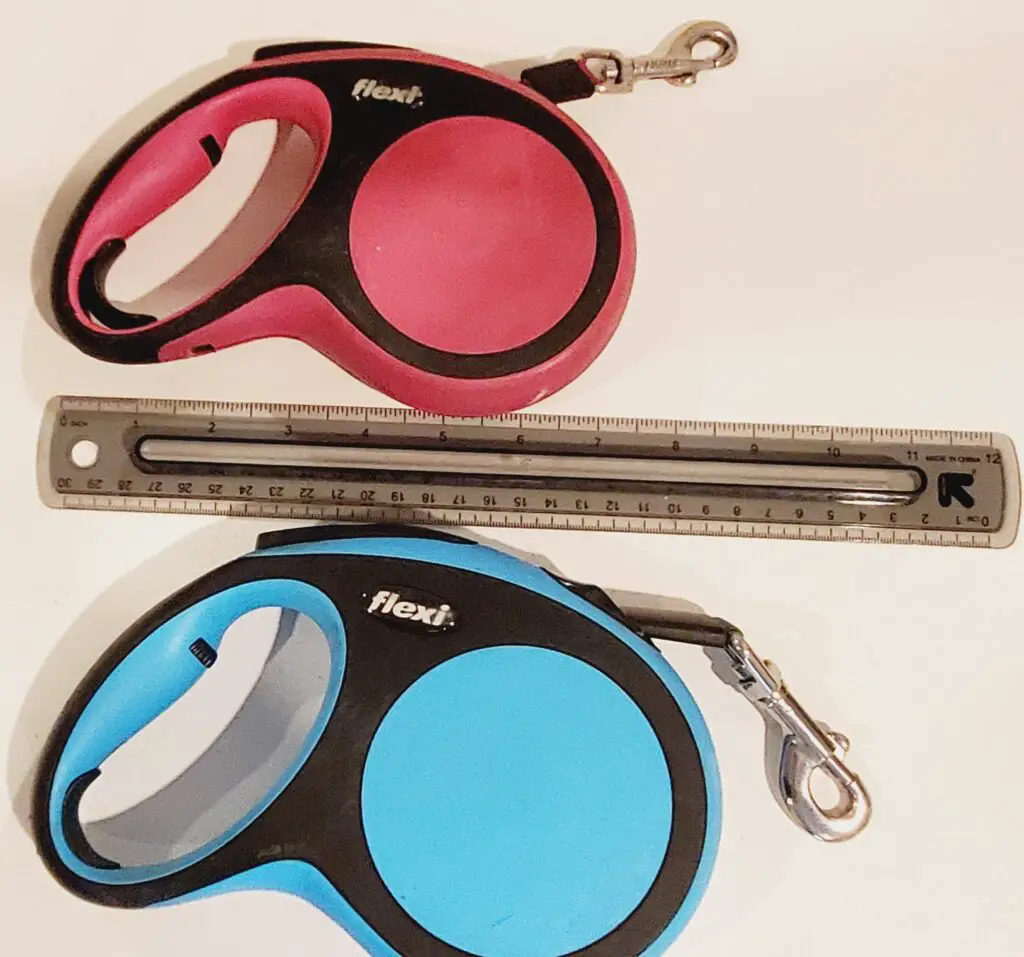 What we like:
Straightforward design
Sturdy nylon cord and the other Flexis that have the tape are even more sturdy.
Easy retractability with the lock mechanism
Attachable bag holder (not included)
What we don't like:
Difficult to push the button for those with hindered hand strength
The cord doesn't seem sufficient for large and/or energetic dogs.
Related Articles:
Last but not least on our list of the best retractable dog leashes is the UPSKY Retractable Dog Leash.
This is a great leash if you are interested in walking your dog in low light conditions in the evening, night or early morning.
This ergonomic retractable dog leash comes with a 6.5-inch battery-powered LED flashlight, one that fits on top of the leash holder.
The flashlight can be removed and attached to the holder as well.
The holder itself is made of very durable ABS plastic and has a rubberized handle.
The control button allows for fully unlocked and locked positions, with retractable capabilities. The flashlight that sits on top of the holder, is made of plastic and LED lights, and has a switch of its own.
Related Articles:
As one of the best retractable dog leashes, it is made of nylon and is 16 feet long. It has a metal-plated clasp with a plastic support just below the clasp. The leash is capable of holding dogs of up to 33 pounds. In all, this retractable dog leash 6.8 inches long, 4.5 inches wide, and 1.4 inches high.
What we like:
Lightweight design
Specifically made for smaller dogs
Flashlight feature allows for night walking
Sturdy clasp build
What we don't like
Nylon cord is not suitable for all dogs
What Are the Benefits of the Best Retractable Dog Leashes?
There are several benefits to using one of the best retractable dog leashes.
Firstly, one of the best retractable dog leashes allows your dog to walk at a considerable distance from you without having you follow it around too much.
In this way, you can stand, or even sit, in the same position and not have to worry about following your dog everywhere.
The second advantage of a retractable leash is that it allows your dog to explore different areas of open terrain.
If you are walking in an open field, or on a wide path, or are visiting the beach, one of the best retractable dog leashes we've reviewed might fit your needs better than a standard leash.
A standard 6-foot leash will not give your dog the chance to explore new places and sniff around — not quite as easily as when done with a retractable leash.
Thirdly, with one of the best retractable dog leashes, you are able to stop your dog when you feel it has gone too far away from you. Whether it sees a place of danger, or hears another dog or animal, a retractable leash is just one push of a button away from keeping your dog from wandering too far.
This can prevent injuries from the surrounding environment, including cars, bodies of water, and other animals.
In addition to this, you can use one of the best retractable dog leashes as a learning device. If you have a dog that is learning positional commands (such as "come" or "stay") you can use a retractable leash to give it enough room to make mistakes.
After a while, you can let your dog out at different distances, using the retractable leash to your advantage.
Finally, some of the best retractable dog leashes come with different features that make it somewhat easier for you to take your dog out for a walk.
Related Articles:
Which of the Best Retractable Dog Leashes is Right For Your Dog?
Even one of the best retractable dog leashes are not for every dog. This is because some dogs may be too large or strong to handle retractable leashes.
In addition to the length limits of a retractable leash, there is usually a weight limit too.
Most retractable leashes, at their highest weight limits, only can handle dogs of up to 110 pounds in weight. This means that medium and large-sized dogs are not recommended for using retractable leashes.
In addition to this, you might want to consider the temperament of your dog, even if it falls within the leash's weight limit.
Relevant Articles:
If you have a dog that is a fairly reliable walker, you will more likely benefit from using a retractable leash. A dog that is curious but tentative may be a good match for a retractable leash, too.
This is in contrast to a dog that is curious but gets excited or easily distracted when it sees new things.
You will want to choose one of the best retractable dog leashes that is strong enough for your dog (that falls within the leash's weight limits), comfortable enough to be held for long periods of time, easily retractable, and sturdy enough to handle the outdoors — and your dog's habits.
If you know your dog may chew on your leash, or is one that walks in circles, find a leash that can adjust to, or easily withstand those possibilities.
Make sure you have a good walking vest or harness for your dog. Since most dog injuries with retractable leashes occur in the dog's throat or neck, be sure to have a safe way to evenly distribute the leash's pulling power.
Using the leash with a harness rather than a collar can lessen the change of injury.
Another way to avoid injury in your dog is to mark the leash (with a dog-friendly permanent writing implement) five feet before the end of the lead. This will help you see when you need to set the leash in a fixed or retracting mode.
Finally, keep your hands safely away from the cord during usage. There have been moderate to severe owner injuries from poorly-handled retractable dog leashes, from burned hands (from unwittingly trying to grab an unspooling cord) to severed fingers (yes, severed fingers).
If you are distracted, even one of the best retractable dog leashes isn't going to help you. Pay attention and make sure you have your eyes and ears on your dog, your leash handle, other people, and any possible distractions in the surrounding environment. 
This means that you may want to keep your phone in your pocket and fully enjoy the benefits of walking the the dog and keep and eye on them at the same time.
You might like to invest in a one of the best dog harnesses for hiking to go along with your retractable leash.
The Bottom Line on the Best Retractable Dog Leashes
The benefits of the best retractable dog leashes can be far above that of a standard dog leash — and this is because it can be used as a great tool for different training, control, and recreational purposes.
However, in some cases, it has been the fault of the leash itself. Cuts and burns have been documented when the leash is retracted quickly and the owner's hands were on leash line.
With that in mind, no leash is completely safe for dogs or owners, even a regular leash. And, on many occasions, distracted pet parents or dogs will end up injured. So it's not the best leash if for pet owners who need to zone out while walking or running with their dog.
That said, it is important to exercise a considerable amount of caution when using a retractable lead, so as to avoid injury to your dog and possible injuries to yourself should a walking situation get slightly out of control such as in a crowded area.
The handling between a medium and a large was all the difference.
The medium size did work but the ribbon often curled oddly and it just seemed like at some point, it was going to snap out if she someday lunged at full force.
And although we are not veterinarians, we recommend that if you are going to use a retractable leash, you should use a harness rather than a collar.
There are times when you will have to use some force to pull your dog back from a potentially harmful situation. The force on the throat could lead to the acceleration of collapsed trachea. Though experts do not know the absolute cause of collapsed trachea, from a physics angle, any force on a being's trachea causes trauma.
If your dog is aging and/or is a breed prone to collapsed trachea, it is especially recommended that you use a harness rather than a collar. These breeds include small breed dogs like: Yorkshire Terriers, Pomeranians, Toy Poodles, Chihuahuas.
However, it is seen in medium and large breed dogs as well.
Your dog can continue to wear a collar with an ID tag in case they get lost, however, the leash should be hooked onto the harness.
So what should you really look for in retractable dog leashes?
One drawback to a retractable leash is when the leash is fully extended and your dog goes around a corner, in order to retract the leash, you have to even yourself out with the leash and straighten the angle. You can stop your dog initially with the button, and the best you can do quickly is walk backward to pull your dog away from whatever it has lunged at.
If you are evening yourself out with the angle, straightening the ribbon/tape, and you are unable to walk backward, you will have to push the button up to retract, while pulling your dog back simultaneously. It's similar to pulling in a big fish on a fishing pole.
In all, however, a reliable retractable dog leash — especially for an owner and a dog who can handle one — can be a joy to have, giving you and your dog the best comfort and freedom outdoors walking has to offer.
Please read our Legal Disclaimer