Anyone with a dog that is a faster eater knows exactly how big of a glutton their dog can be when mealtime comes. In fact, left to their own devices, a puppy will happily gorge themselves on kibble, even to the point of becoming sick.
Other dogs may get so excited that they eat their food too quickly and similarly lose their dinner. According to the American Kennel Club, a good way to combat quick eaters is by using one of the best slow feed dog bowls available, of which you will find a list below.
So, if your pet seems otherwise healthy, this may explain the source of problematic symptoms, and a quality slow feeding dog bowl is a good possible solution.
Slow feeders come in many shapes and sizes, and one can easily be found to suit most needs, below we will look at five of the best slow feed dog bowls available on the market, as well as go over some common questions pet owners have when looking for a slow feeder.
Best Slow Feed Dog Bowls
Our website is supported by our users. We sometimes earn money when you click an affiliate link and make a purchase. This is at no extra cost to you and helps us to create quality content. Thank you for your support.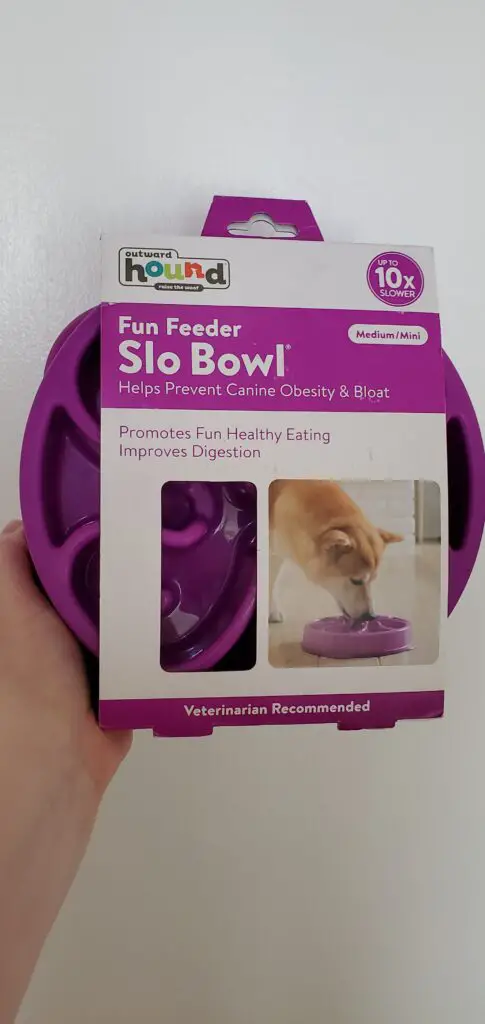 The very first of the best slow feed dog bowls is the recognizable Fun Feeder from Outward Hound, which is distinctive with its different patterns and colors.
All of the bowls are made of hard plastic, and the best part is that they are available in a range of sizes, from bowls for miniature or tiny breeds, all the way to bowls designed for larger breeds.
Outward Hound claims this slow feed dog bowl will keep your pup busy with mealtime for up to ten time longer thanks to its patented ridges.
These ridges are designed to encourage dogs natural foraging and eating behaviors and stimulate them mentally during mealtime.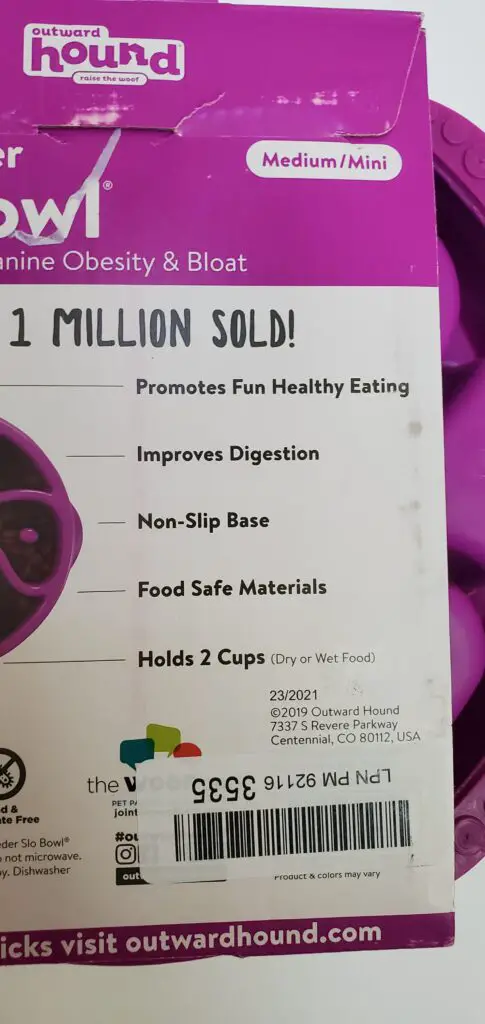 What we like:
Comes in a variety of sizes, shapes and colors, so you are sure to find one that matches your decor.
Dishwasher safe, BPA, PVC, Lead and Phthalate Free
Sturdy and stable
Easily compatible with a variety of wet or dry diets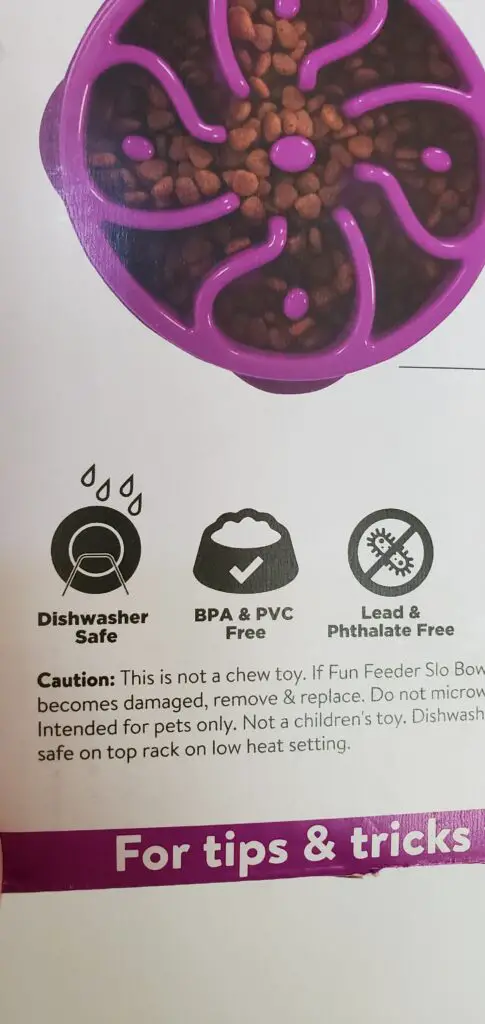 What we don't like(ish):
While the tight space between nooks and crannies makes this one of the best slow feed dog bowls available, they also, unfortunately, make it a more difficult bowl to clean. This is especially true if you use wet food or anything that may cake onto the bowl's more triangulated areas, which also causes food waste.

Our test subject was not a super motivated eater, so she didn't take the time to work out the trickier areas. However, this may be perfect for a dog that needs more entertainment and stimulation.
That said, it can take some dogs a period of time to get used to eating from a slow feeder that is as challenging as this one is.
Related Articles: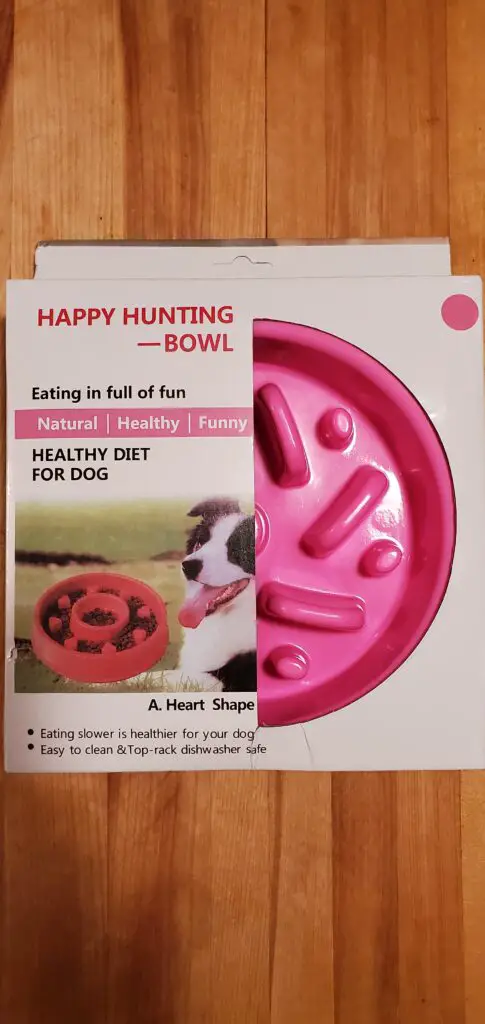 The next bowl on our list of the best slow feed dog bowls is the similarly styled, and yet unique, Slow Feeder Dog Bowl offered by NOYAL.
Related Articles: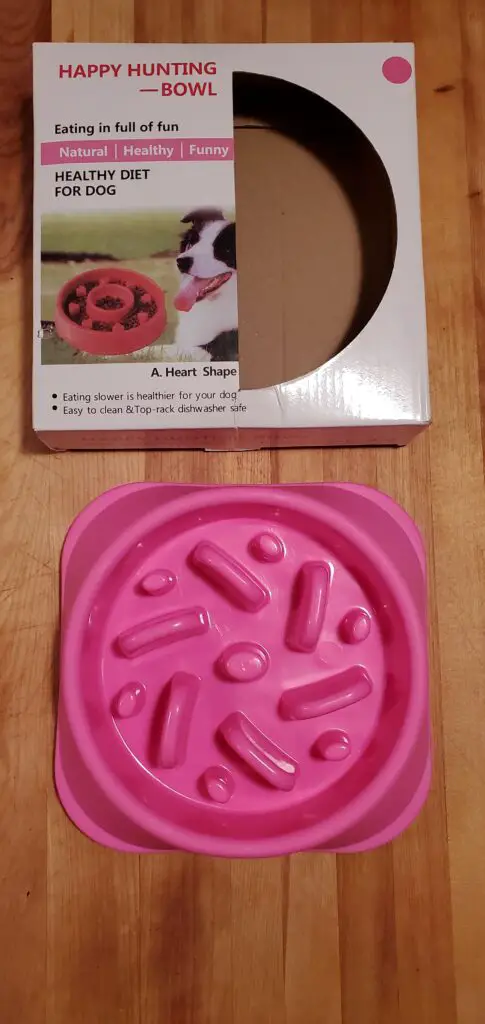 The NOYAL bowl also has plastic ridges, but they are smaller and dispersed in a radial pattern around the bowl. The plastic bowl's ridges are either longer blades, or smaller spikes, which provide the challenge and puzzle element for your dog's mealtime, but don't worry they are completely blunt and safe for your pup.

Though this bowl is challenging, it doesn't have the tight, triangulated areas of the Outward Hound Slow Feeder bowl, so it is perfect for fast but lazy eaters. Especially if they are eating wet food that would normally allow them to gobble their food more quickly.

This bowl slows them down just enough to curb digestive issues but it doesn't make it so they have to work at it to get into the nooks and crannies.

As one of the best slow feed dog bowls, the NOYAL Slow Feeder Dog Bowl only come in one size and with one pattern (though two are listing on the box) but many fun colors.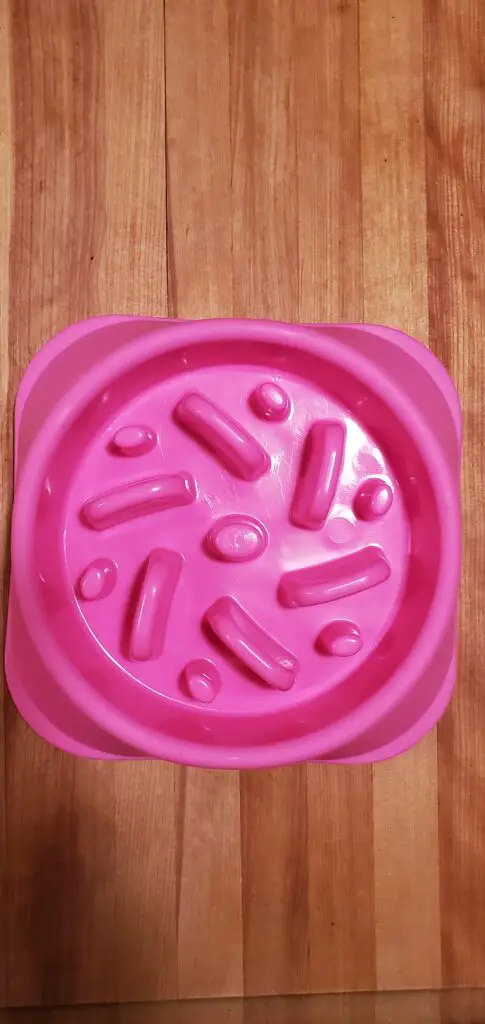 What we like:
This slow feeder comes in seven different colors and is compact with only an 8-inch base diameter
Has non-slip padding on the underside to keep your dog from moving the bowl around while chowing down.
This bowl is great for smaller dogs because it is not as deep as the Outward Bound.
No super tricky or tight areas where food can get stuck
Dishwasher safe on the top rack
What we don't like:
Not a suitable dish for dogs that are aggressive chewers, as its plastic construction may prove too tempting and this is bad because…
We don't know if the plastic BPA, PVC, Lead or Phthalate Free
The slow feeder only comes in one size, which may be too small for some dogs.
Related Articles:
Dogit Dog Bowl Slow Feeder for Wet or Dry Dog Food, Go Slow Anti-Gulping Dog Dish, Black, M
5 new from $15.85
Free shipping
as of October 17, 2023 6:07 am
The third on our list of best slow feed dog bowls is simple design from Dogit that come in four sized that hold anywhere from 1/2 cup of food to 5 cups and is dishwasher safe.

The dish is designed with the size of the dog's snout in mind, as it only has a singular circular ridge in the middle and four smaller stubs pointing at it from the sides of the bowl. So, getting too large of a bowl will be counterproductive to your goals of slowing down your dogs eating.

It is important to make sure you use the scale on Amazon to make sure you get the right size for your dog.

You want it so your dog can get into the top of the bowl easily while using it's tongue to dip into the four recessed areas and the smaller ridges with more difficulty.
What we like:
The bowls have an attractive shiny gloss, and the plastic bowl is lightweight and easy to clean.
The Dogit Slow Feed Dog Bowl can be used with wet or dry food, and also works as a water dish.
The plastic is dishwasher safe, BPA and PVC Free
Very sturdy
What we don't like:
The light weight and the opening at the bottom (for the ease of the owner picking up the bowl) of the dog bowl can make it too easy to overturn for some dogs.
Related Articles: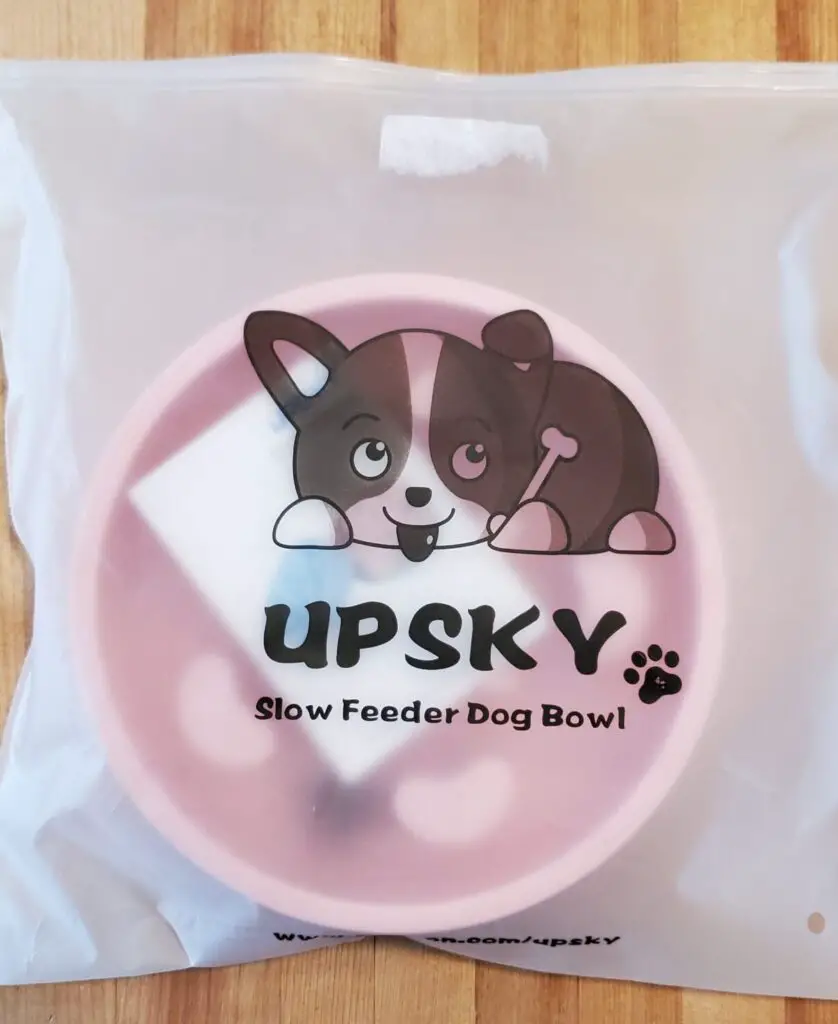 Next on our list of the best slow feed dog bowls is made by UPSKY is a slow feeder that comes a single puzzle design. What sets this bowl apart on the list of best slow feed dog bowls is the wider-set puzzle maze.

This design is better for smaller to medium dogs with smaller snouts such as Pugs, English bulldogs, Llasa Apsos, Shih tzus and French bulldogs. Dogs with longer snouts may not find this as challenging.
The feeder comes in three soft colors, salmon, pale green and light blue. The plastic is of noticeably high quality and is of comparable durable quality to the other best slow feed dog bowls on our list.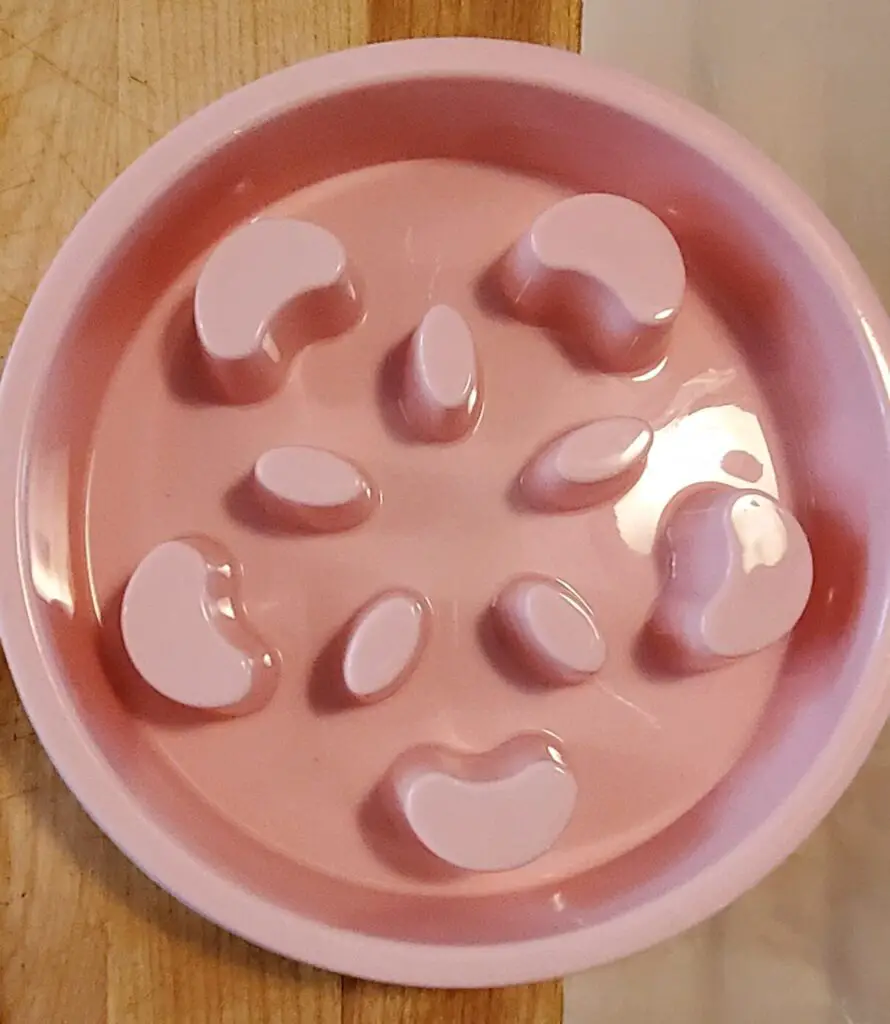 What we like:
The simple puzzle design will be great for dogs that are just getting used to puzzle feeding.
The bowl feels sturdy and doesn't slide around on the floor during mealtimes.
Has a larger capacity that makes it easier to portion out meals that range from 1.5-2 cups in size.
The depth and the space of the maze ridges are good for short nosed breeds
Made of PP (Polypropylene) resin which is food-safe, non-toxic, yet durable and recyclable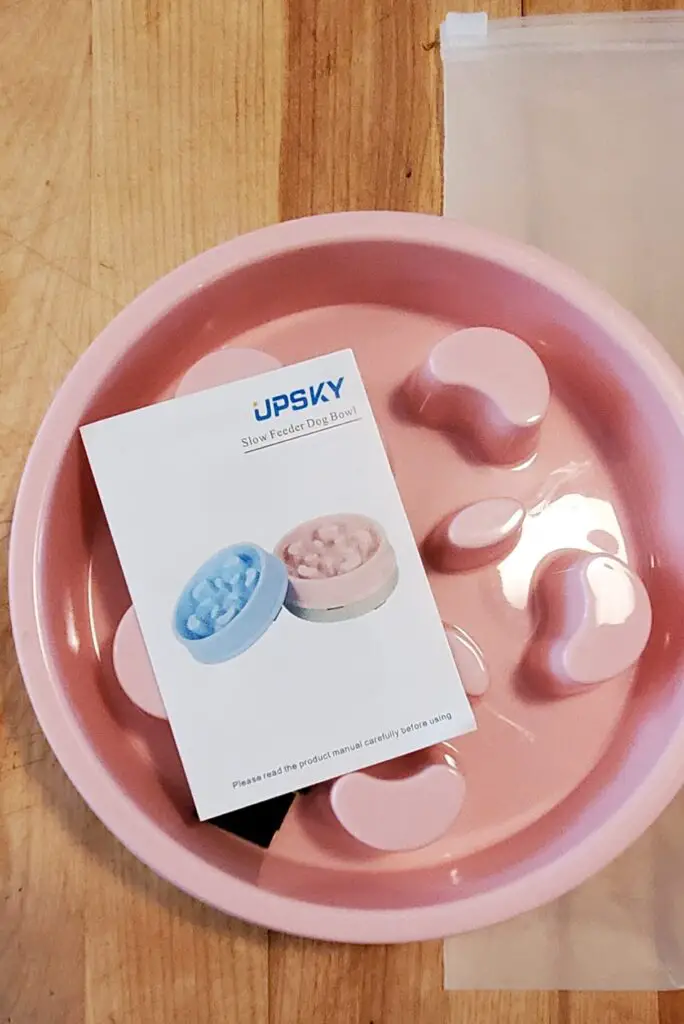 What we don't like:
Because of the wider design of the maze ridges in the bowl, some longer snouted dogs may not find it enough of a challenge and are able to continue to eat too quickly.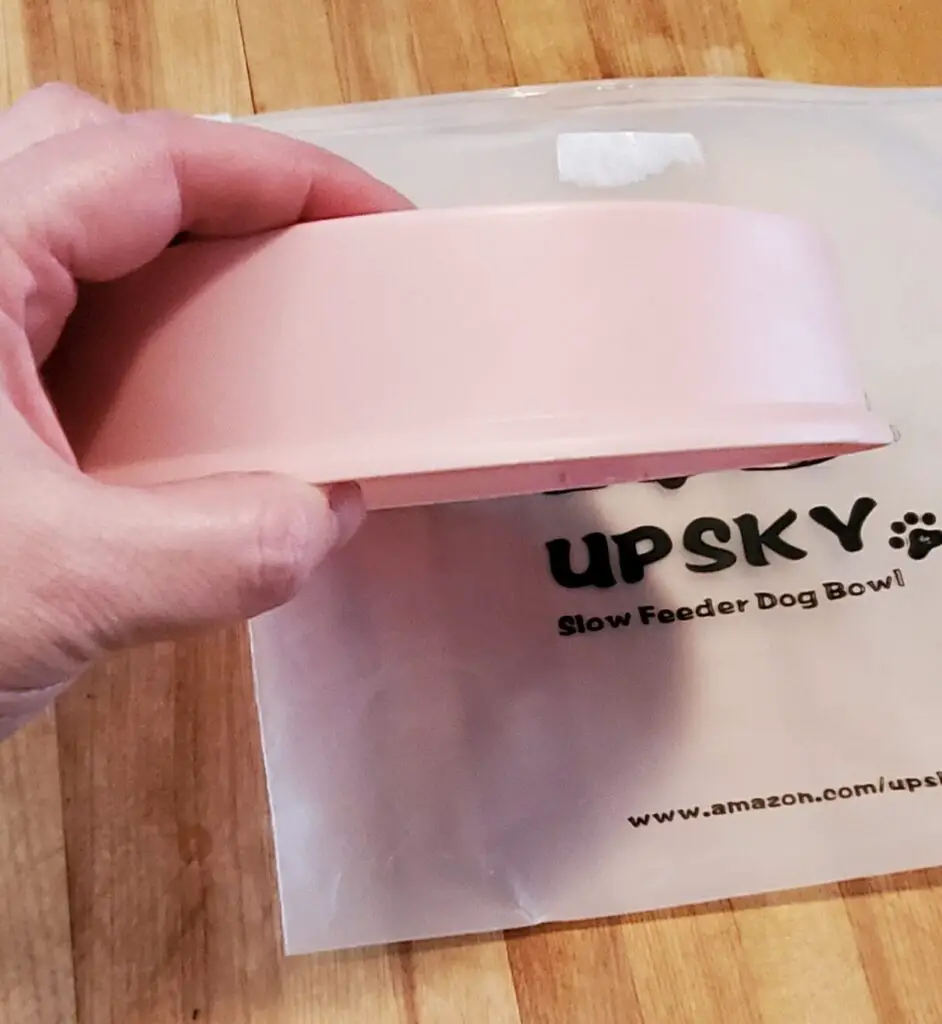 Related Articles:
Neater Pet Brands Stainless Steel Slow Feed Bowl - Fits in Large Neater Feeders and Most 2 Quart Feeders, 3 Cups
as of October 17, 2023 6:07 am
The last bowl featured on our list of best slow feed dog bowls is from Neater Pet Brands and is different from the others in that it has a stainless-steel construction.
The bowl comes with a nice, brushed finish and has a single ridge that encircles the rim of a large circle that pops out of the dish's center.
This is one of the best slow feed dog bowls for larger breeds, and it has a capacity of up to four cups. Its simple design and metal construction also lessen the risk of the bowl becoming a choking or chewing hazard.
What we like:
Perfect for aggressive chewers or dogs that may chew on some of the plastic options we have listed above.
The stainless-steel makes this dish incredibly easy to clean and completely dishwasher safe.
The bowl is designed to fit in the food slot for most elevated food systems, which makes containing the mess of your pet's food area clean much easier.
Stainless steel is good for dogs that are prone to acne due to plastics
What we don't like:
Not a particularly difficult puzzle for your dog to figure out.
If you normally warm your dog's food, it is important to note this particular bowl is not microwave safe due to its metal construction. So, any food would have to be warmed in a separate container, dirtying a dish and adding an additional step.
Related Posts:
How are slow feeder bowls good for dogs?
The best slow feed dog bowls will benefit any puppy or mature dog that has difficulty refraining from gulping down their food and eating at a reasonable pace. The side-effects of eating too much too quickly for your dog can include choking, an upset stomach, diarrhea, bloat and vomiting.
Of course, there are other benefits of slow feeder bowls for dogs as well, including using them as a weight management tool if your dog struggles with obesity.
Did you know that boredom and routine can be a big cause of some dogs suddenly becoming picky eaters? Luckily, all of the above best slow feed dog bowls are designed to not only feed your dog, but keep them mentally stimulated during mealtime as well!
What you feed your dog is just as important as the bowl you are using. If your dog is scooting their bum, it could be a serious medical issue. However, it also may be a full anal gland. Check out these foods that can help your dog express their anal gland naturally.
Related Articles:
What material should a dog bowl be made out of?
If you are wondering what material is best slow feed dog bowls, the answer will depend on your own canine's behavior and habits. For example, if your dog is a veracious chewer, and will easily and happily chew through toys or plastic bottles, be sure to stick to more indestructible materials. This can mean bowls made from things such as metals or ceramics, over the plastic options above.
That being said, there are of course materials that all dog owners should avoid, such as rough or abrasive surfaces that might be too rough or scratch you hounds snout or mouth. You similarly want to make sure that your slow feeder only has blunt surfaces that will not poke or jab your dog while they are eating. If you are worried about finding a safe bowl for your puppy, don't worry, all of the best slow feed dog bowls detailed above avoid sharp edges and will be more than comfortable for most any dog.
The Bottom Line
In conclusion, a slow feeder is useful tool for those looking to help their dog eat slower or lose weight. Luckily, there are many great options for pet owners who are looking to incorporate a slow feeder into their puppy's mealtime. We hope that you enjoyed taking a look at five of the best slow feed dog bowls available, and that you learned something new along the way.
Relevant Articles:
Please read our Legal Disclaimer