If your dog is anything like ours, then its favorite sound in the world, other than the crinkle of a bag, is the snick of peanut butter lid makes when it's being opened.
With their super sonic hearing it is a sound that is almost guaranteed to bring any pooch running. Ask any dog owner, though, and they will tell you this can be annoying when you only want to make a PB&J for yourself and not a special treat for your special pup!
But what many dog owners want to know is. "What is the best peanut butter for dogs?" There are many options available to pet parents today, but below we will look at five of the best peanut butters for dogs available on Amazon today, that will keep both you and your dog not only happy, but healthy.
It's true, most dog owners would agree that their canine companions enjoy peanut butter just as much as we humans do. That's why peanut butter is often incorporated into training regimes, like spoon training with small dogs, or as a reward for a job well done.
Be sure to read on after our reviews, and we will answer some of the most frequently asked questions in our buyer's guide below, but if you can't stick around, here is our list of the five best peanut butters for dogs:
Our website is supported by our users. We sometimes earn money when you click an affiliate link and make a purchase. This is at no extra cost to you and helps us to create quality content. Thank you for your support.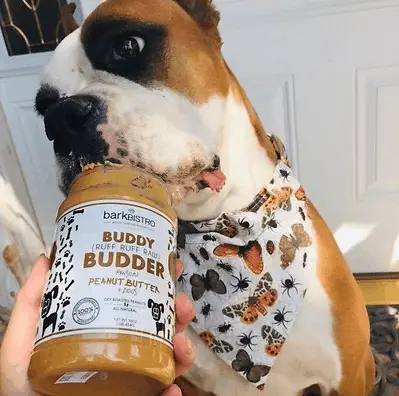 The first peanut butter we recommend as one of the best peanut butters for dogs is shocking in the number of ingredients it contains! In fact, it has only two in total: peanuts and honey.
The simplicity of the Ruff Ruff Raw Buddy Butter, which is produced by the Bark Bistro Company, is one of the main appeals for pet parents that are worried about artificial ingredients that may harm their pup's tummy.
And the source of the ingredients is also important for the peace of mind of any dog owner, and here too Bark Bistro promises a superior product made of all-natural ingredients and specially formulated for dogs.
What we like:
· No unnecessary added salt or sugar, or otherwise benign ingredients that can be harmful to dogs such as palm oil, high fructose corn syrup or xylitol. (Which is not always the case in peanut butter for human consumption.)
· The product can be refrigerated for a thicker consistency that can make it easier to handle when filling dog treats, puzzles or snuffle mats.
· A basic and versatile flavor of peanut butter that can easily be used in homemade baked treats or as a disguise for dogs wary of their medicine.
What we don't like:
· While the product is of high-quality, with only all-natural, wholesome ingredients included, the quality of the product is also reflected in its price.
· Lastly, some dogs may not be attracted to this particular peanut butter, especially if they have not been properly weaned off of peanut butter designed for human consumption.
Related Articles:
Green Coast Pet 3 Pack of All Natural Pawnut Butter for Dogs, 16 Ounce Jars
3 new from $27.99
Free shipping
This Pawnut Butter is made by Green Coast Pets, which claims it's great for dogs of all life stages. This is another simple, two-ingredient peanut butter.
The two ingredients are just flaxseed and peanut butter, making this product a great way to add protein and Omega 3 to your pet's diet. And this is yet another reason why this is recommended as one of the best peanut butters for dogs.
Related Articles:
What we like:
· Green Coast Pet offers this Pawnut Butter in larger portions than its competitors. For example, it's available as a generous 3-pack of one-pound jars of dog peanut butter.
· That this peanut butter is free of preservatives and acids, and the flaxseed is a great way to add healthy ALA Omega-3 to your dog's diet.
· Pawnut Butter only uses peanuts that are grown in the United States, so you don't have to worry about dubious sources for their ingredients.
What we don't like:
· An oil can form on the top of unused jars of peanut butter, which is visually unappealing, but is fine to just stir into the peanut butter in order to maintain a smooth consistency.
· The consistency can be almost like a liquid if stored in a space that is too warm. If this is a problem for you, try storing your Pawnut Butter in the refrigerator.
Related Articles:
Peanut Butter for Dogs with Pumpkin & Spice - Delicious Dog Snack for Filling Bones - Long Lasting Treat or Meal Topper for Calming Dogs with Anxiety
out of stock
The next product on our list is the Pumpkin & Spice Peanut Butter, which marks Basil and Eddie's first entry on our list of the best peanut butters for dogs.
The Pumpkin & Spice Peanut Butter differs from the previous entries on this list in that it has more than two ingredients, in fact, it contains a whopping four total ingredients!
But have no fear, like all of the best peanut butters for dogs we've listed, the ingredients are all safe and wholesome with your pup's health specifically in mind.
This can be seen in the formulation of this peanut butter in its addition of pumpkin. And while pumpkin has long been touted for its digestive health benefits, getting it into your dog's diet can be a challenge.
That is why having it sneak into their diet through one of the best peanut butters for dogs is so great, your dog is eating their vegetables, but to them it's like cake!
What we like:
· This peanut butter uses only four simple ingredients: Peanuts, Pumpkin, Cinnamon and Ginger Root
· Basil and Eddie's offer a "100% happy dog" satisfaction guarantee, which offers you a full refund if you or your puppy are unhappy with the product.
· The peanut butter is manufactured in sterile U.S.A. based manufacturing plants using only the best clean ingredients.
What we don't like:
· Like other natural peanut butters, the consistency can look a little runny at first, just be sure to give it a good stir before using.
· Some picky dogs may not like all of the ingredients, which is why it is important to take advantage of the satisfaction guarantee the company offers if you have a choosy puppy.
Related Posts: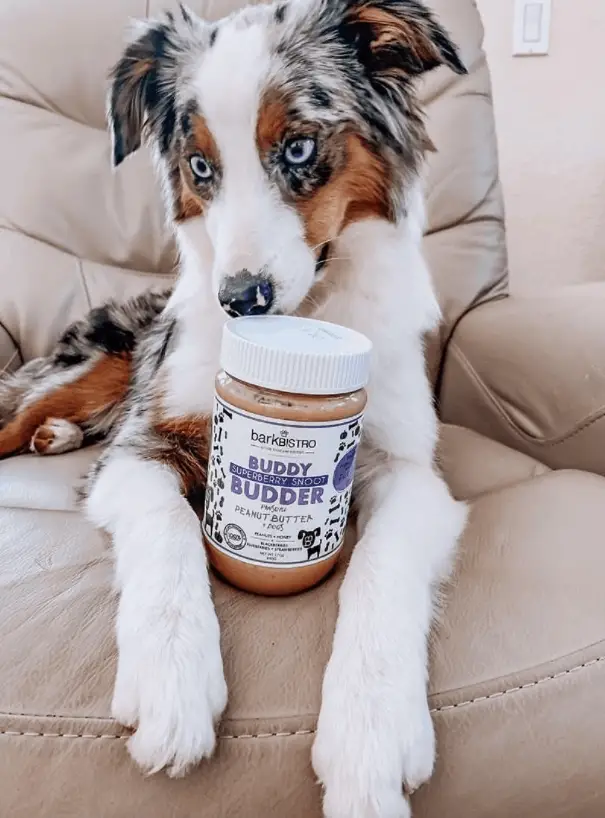 The Bark Bistro Company's second entry on the list of best peanut butters for dogs is more complex than its first. The company's Superberry Snoot offering is a playful peanut butter for your pet that is loaded with unique ingredients like fruit, honey and, of course, peanuts.
Your dog will love licking this peanut butter straight off of a spoon or as incorporated into a chewing puzzle, like the one we will focus on below. Using the Superberry Snoot as an ingredient for homemade baked treats can give them a distinctly fancy feeling and a taste that your dog will go crazy for.
What we like:
· This peanut butter has an attractive smell that owners will like, and dogs seem to enjoy as well.
· Superberry Snoot has simple, but fun, ingredients. Each jar contains only: peanuts, strawberries, honey, blueberries and blackberries.
Relevant Articles:
· Even though it is one of the best peanut butters for dogs, it is human grade and made in the U.S. with only domestically sourced ingredients. So it's okay to sneak a bite for yourself.
What we don't like:
· Some dogs, for whatever reason, are reportedly not interested in this product at all.
· It is best to keep this peanut butter refrigerated, as the product can have a thin consistency that melts quickly in warm environments.
West Paw Dog Chew Toy and Treat Bundle, Zogoflex Toppl Treat Dispensing Dog Toy Puzzle, Aqua, Small and Peanut Butter & Banana Creamy Dog Training Treats, Made in USA
out of stock
This product differs from the others on this list in that it isn't one of the best peanut butters for dogs at all, but in fact a great chew puzzle for your dog.
The Zogoflex Toppl is made by West Paw and is a great way to dispense you dog's favorite peanut butter in a safe doggy chew toy that they will love to play with.
The best part of the Zogoflex Toppl is that its puzzle nature makes it uniquely stimulating for dog minds. And you can use any of the best peanut butters for dogs listed above to help you introduce your dog's new toy.
In fact, peanut butter can be a great reward when introducing a new and challenging toy.
Another great thing about the Zogoflex Toppl is that it can be used with a variety of treats, anything you can fit inside it will work, not just peanut butters.
One thing that is important to consider is ensuring that you get the right size puzzle for your dog. If you don't think the toy would comfortably fit in your dog's mouth, try a larger size. Likewise, a toy that is too small for your dog can be a choking hazard. Luckily, West Paw offers a money-back guarantee if you are for any reason unsatisfied with their product.
What we like:
· The puzzle aspects of the Zogoflex Toppl will be sure to keep any pup happy, challenged and occupied for some time, especially if you fill it with one of the best peanut butters for dogs that we recommend.
· Zogoflex Toppl is durable and made of non-toxic, recycled materials, so it is safe even for use with the most aggressive chewers.
· The design of the puzzle makes it easy to clean and the Zogoflex Toppl is BPA free and dishwasher safe.
What we don't like:
· For an extra challenge, it is recommended that you order a second cup to fit your first toy inside of.
· Sometimes manufacturing defects have been reported that can cause toys to split or tear, this is why it is important to always supervise your puppy's play time.
Related Articles:
How much peanut butter is too much for dogs?
If you've read our list of best peanut butters for dogs above, then you already know that peanut butter is rich in natural fats and proteins, which is why it is such a guilt-free treat for most pet owners. However, like any good thing, there is such a thing as too much peanut butter for your dog.
So, how much peanut butter should you use for your dog? Well, there is no easy answer, as the proper dose will depend on the peanut butter and dog in question.
In general, you should try to limit your dog's intake of any peanut butter designed for human consumption. Luckily, all of the products on our best peanut butters for dogs list have been specifically designed with canine needs in mind.
When using peanut butter as a treat, it is important to note how much your dog eats, as it is calorically dense and too much is bad for your pet's diet.
The following guidelines should be helpful when portioning peanut butter for your dog:
-Small sized dogs (Less than 18 lbs): Should receive a half tablespoon of peanut butter as a serving.
-Medium sized dogs (Between 19-30 lbs): Can have a full tablespoon of peanut butter as a serving.
-Large sized dogs (Greater than 30 lbs): Should not have more than two tablespoons as a single serving.
Related Articles:
Even if you are using one of the recommended best peanut butters for dogs it is important to allow your dog to slowly acclimate to any new product by limiting initial portions to small tastes.
Will peanut butter cause diarrhea in dogs?
As with introducing anything new to your dog's diet, it is best to expose your dog to peanut butter a little bit at a time. If you fail to allow your dog's digestive system to adequately adjust to a new type of peanut butter, you may very well find yourself with an irritable puppy with an upset tummy and even diarrhea.
In most cases this is a temporary inconvenience that means you may have given your dog too much peanut butter too soon, and things should return to normal as their stomachs acclimate.
However, what if you already regularly give your dog peanut butter, and you notice there is an issue with your dog's stool?
While it is common to use peanut butter, either as a treat, or as a part of obedience training (as recommended by Crossbones Dog Academy), it may be that you have used too much in this particular case.
This is an important reminder that you should properly portion and always monitor your dog's peanut butter intake. Be sure to follow the signs your own dog's body is telling you as there is truly no one size fits all prescription for how much peanut butter will affect your animal.

Check out this post if you are looking for treats for your dog that is an aggressive chewer.
Related Articles:
Why should I avoid using all products that contain xylitol for my dog?
One danger that every pet owner should be aware of is the danger of xylitol, a common ingredient found in many peanut butters that should be avoided at all costs due to its poisonous nature to dogs. Its danger to dogs is in that even a small amount ingested by most breeds can be harmful, especially to their livers.
According to the Northwest Animal Hospital, even the small amount of xylitol present in a stick of gum may be enough to seriously harm or kill your dog.
Acute cases of xylitol poisoning may manifest themselves in symptoms that can include:
Seizures and tremors
Vomiting
Weakness in legs or collapse
Yellowness of eyes or gums
If any of the above symptoms present themselves in your dog, be sure to contact your veterinarian for professional care immediately.
But you can also be assured that none of the best peanut butters for dogs that we recommend above has xylitol listed as an ingredient.
Though it is important to remember that xylitol's use isn't limited to peanut butter, as it is a popular sugar substitute in a variety of common household products, such as cereals, mouthwash, toothpaste, fruit drinks, baked goods and even many varieties of gum.
You can find a comprehensive list of products here. Xylitol is one ingredient all pet owners should check for before giving their dog or cat a special treat, and it can labeled alternatively as Birch Sugar, E967, and Meso-Xylitol, among other names.
The Bottom Line
Thus, concludes our guide to the best peanut butters for dogs. We hope that you learned something about what makes the above peanut butters some of the best peanut butters for dogs available, and that you enjoyed reading while you did so. Most importantly we hope you learned something about the dangers of xylitol and how to correctly dose peanut butter.
Please read our Legal Disclaimer